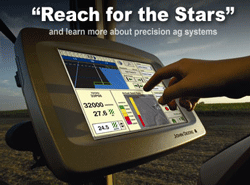 One of my sponsors for AgWired coverage of this week's National Farm Machinery Show is John Deere. I know they've got a lot to see and talk about and we'll get started on that tomorrow morning. One of those things though is their "Reach For The Stars" program which they launched with the American Soybean Association.
John Deere representative, Seth Crawford explains what the program is all about: johndeere-crawford-stars.mp3
"New AMS solutions are expanding to include functionality on non-John Deere equipment as well," said Seth Crawford, AMS Marketing Manager. "So I am encouraging all growers, regardless of the color of your equipment, to take advantage of this program, and experience how precision ag can bring more efficiency to your operation."
I know we'll be talking about precision agriculture, new tractors and implements but it's time for me to get ready to head on out to the show. You'll get lots of pictures and interviews over the next several days as I get my first look at this annual event.
AgWired coverage of the National Farm Machinery Show
is being sponsored by:
and