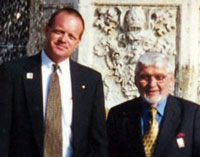 I really do not like having to report that my good friend Ed Slusarczyk has passed away. Agricultural communications has lost another good friend and one of the best. I will update this post when I have more details but I want to thank Pam Jahnke for helping keep us up to date since we learned that Ed wasn't doing well.
I'm sure that a lot of you have a favorite Ed story. How many of you remember Ed as an NAFB cheerleader at a NAMA convention? I know Gary Cooper and I won't forget going in with Ed to pay for the wine and cheese at a reception at the house of the U. S. Ambassador to the FAO in Rome, Italy. Ed was a good listener and always willing to offer advice when asked.
Cindy and I remember Ed for the time when he almost obtained a private audience for us with then Pope John Paul II in Rome. Ed was a friend of the Pope and unfortunately it was at a time when the Pope became sick and couldn't see anyone. Post update: Cindy found a picture of Ed and me on St. Peters Square in Rome on this trip which I thought I'd share with you.
Here's what the NAFB website has to say about Ed:

NAFB has received word that Ed Slusarczyk passed away on Friday December 29 at approximately 6:00 a.m. eastern time. Ed had been struggling with recovery after surgery for a recently discovered brain tumor. When funeral arrangements are made and more information becomes available it will be posted for members. Ed's family has requested that no cards be sent at this time.

Ed, you and your family will be in our prayers.
Second Post Update: Here's the information on the funeral arrangements for Ed.

Tom and Holly are requesting that any financial gifts be made to the NAFB Foundation in Ed's name. Sympathy cards are welcome.
Visitation will be: Sunday 2-4 and Monday 2-4 and 7-9 p.m.
Dimbleby, Friedel, Williams and Edmunds Funeral Home
40 Whitesboro St., Whitesboro, NY 13649
Funeral will be: Tuesday, Jan. 2nd – 11 a.m.
St. Mary's Catholic Church
201 Main St, New York Mills, NY 13417 (315) 736-4432
Obituary will be on line at www.uticaod.com.