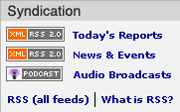 I always learn a lot when I teach a workshop. Sometimes I think I learn as much as the people who are attending.
Here's a good example. I learned that the National Agricultural Statistic Services has added podcasts to their website. NASS has contracted with the National Association of Farm Broadcasting to have them produce these audio reports.
Besides the audio podcasts NASS also has RSS feeds of their reports you can subscribe to.