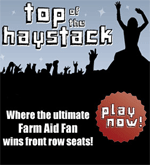 The folks at Farm Aid are providing some great content for an agricultural new media workshop. I know I'll be using them as an example in the one I'll be conducting at the Ag Media Summit next week.
Take Farm Aid's new "Top of the Haystack" online contest to win front row seats at the next concert. It's an online popularity contest where you enter and compete against other people.

We're giving away front row tickets, airfare and hotel accommodations, and all you have to do is prove you're Farm Aid's ultimate fan!