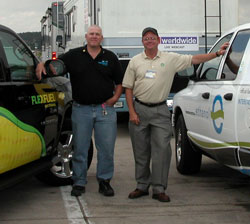 Blogging time is a challenge on a long road trip and I'm on a LONG road trip. Tomorrow's going to be a 502 mile segment of this convoy trip from Cheyenne to Omaha with 2 stops on the way.
At our morning press conference today, Bill Newman (left), Safety Manager for Wyoming Ethanol drove up in Wyoming Governor Dave Freudenthal's E85 GM Avalanche. It was nice to see someone from the ethanol industry on hand. The Wyoming Department of Transportation pointed the vehicle out to attendees and the brightly wrapped truck caught a lot of eyes.
Bill followed the convoy on to Cheyenne after the event. Before leaving though I asked Bill a few questions, including telling us a little about Wyoming Ethanol.
Listen to Bill:

Bill Newman Interview (1 min MP3)