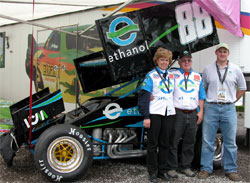 Steve King races what he grows. He grows corn and when that's turned into ethanol he puts it in his number 88 and sprints past the competition.
At Ethanol Day in Indianapolis recently, Steve, sprint car driver, was there to help promote the alternative fuel. Steve is pictured to the right of his parents, Danny & Naomi.
I interviewed Steve while we had a relatively quiet moment (there's usually never a quiet moment at the speedway). Steve says he began using ethanol about 5 years ago. Besides growing corn he also has a feedlot. He says ethanol allows him to load less fuel at the beginning of a race and that gives him a competitive advantage.
You can listen to my interview with Steve here:

Steve King Interview (3 min MP3)