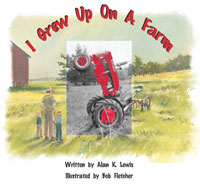 Just in time for the Christmas season is another gift idea with a farm theme. This time it's a children's book, "I Grew Up On A Farm." The book is written by Alan Lewis.

Believing he had a story that needed to be told, Alan Lewis decided to write a children's book about his childhood growing up on a farm. With the ever-increasing numbers of houses being built in place of the farms that used to fill the landscape, Lewis felt something of that past way of life – the life of the American farmer – needed to be preserved for future generations. Lewis wrote the text and artist Bob Fletcher took Alan's black and white family photos and expanded them into full-color pastel illustrations. I Grew Up On A Farm, the result of this collaboration, is being published by Moo Press of Warwick, NY.
You can purchase the book from Moo Press (Keene Publishing) for $19.95.