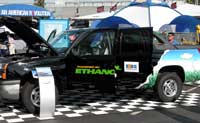 With all the excitement about the ethanol car you may wonder if that's the only way ethanol is being promoted here at the Indy Speedway. Nope. Chevrolet has a huge display area inside the track and featured in the middle of it is one of their Avalanche E85 trucks. All in all ethanol is getting some great publicity here.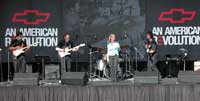 As I was leaving the track yesterday they had the Black Crowes playing on the big stage. I avoided that crowd but found another band playing over in the Chevrolet display area. I have no idea who they are but they sounded great.
There's just an immense amount of activity going on here and throughout the city. I'm probably going to miss the parade if I stay on this computer much longer so I better get going. More to come.