Today's running of car #91, Hemelgarn Racing, around the Indianapolis Speedway was the subject of a Talking News Release for the Ethanol Promotion & Information Council. The release was distributed as soon after the car made its historic laps as possible to radio reporters nationwide. The release was structured a little differently than normal. It contains links to 5 full interviews that reporters (or you) can download and listen to and use on the air. Additionally, there's links to photos that can also be easily downloaded for media use (or yours). It's a very complete media package. Maybe next time we'll include video!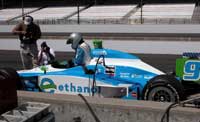 Jimmy Kite drove the car today instead of the injured Paul Dana. However, I was able to interview Paul and his interview is one of the ones available through the links within the release.

ETHANOL-POWERED INDYCAR SERIES CAR MAKES HISTORY
DURING MILLER LITE CARB DAY ACTIVITIES
INDIANAPOLIS, IND., FRIDAY, May 27, 2005 – Jimmy Kite, replacement driver of the No. 91 Ethanol Hemelgarn Racing Dallara/Toyota/Firestone entry in the Indianapolis 500, today made history as he drove an Ethanol-powered IndyCar for the first time in over 50 years during Miller Lite Carb Day Activities at Indianapolis Motor Speedway.
Kite, who is substituting for injured driver Paul Dana, drove the Ethanol Hemelgarn Racing Dallara fueled with a 50/50 ethanol and methanol blend. During the 10-lap demo, Kite got the car up to speeds over 220 mph. The last time a car competed at the Indianapolis Motor Speedway running on ethanol was 1927 with driver Leon Duray.
"It was exciting to be a part of this historic moment in IRL history. It was great that we could show people today that this car can run strong and get up to speed."
The IndyCar Series has announced that it will switch to ethanol as its fuel source beginning with a 10% blend in 2006 and moving to 100% fuel-grade Ethanol in 2007. full release (Word doc)
For more information contact Joanna Schroeder.