This week I have a great opportunity to showcase one of our Talking News Release clients, National Rural Electric Cooperatives Association (NRECA). They use us to distribute good, timely news information to radio reporters, especially from meetings like their just-completed Legislative Conference where they brought in over 3,200 members from around the country to learn about issues and lobby their congressmen.
There are 5 key issues for these folks to work on as identified by the organization. Besides the face time with elected officials NRECA wants to generate more public awareness of these issues back home and certain issues are more important in some states than others. So, we produced several versions of the same basic release, which contain links to sound bites from Glenn English, NRECA CEO and local leaders in the areas being targeted.
You can listen to my interview with Glenn English here: Glenn English Interview
Don't you just love this artistic photo shot of me interviewing Glenn? Ok, so it wasn't supposed to turn out this way – but I think it looks cool!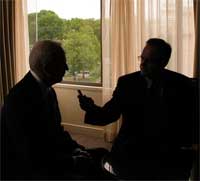 You can also open each of the releases we produced using Glenn's audio and other individuals in Arizona, California, Georgia, North Dakota and Oregon. These were sent to radio station reporters in each state and surrounding states. Additionally, we produced a more general one to send to farm broadcasters in other areas.
NRECA Release Arizona
NRECA Release California
NRECA Release Georgia
NRECA Release North Dakota
NRECA Release Oregon
NRECA Release Farm Broadcasters