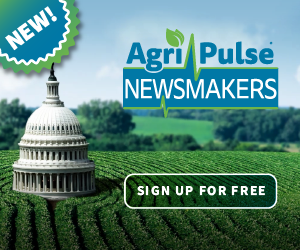 Climate, immigration and inflation are the key issues for this week's edition of Agri-Pulse Newsmakers.
New figures this week showed inflation is still impacting American consumers, but some slight moderation was also observed. There was also news on interest in the Partnerships for Climate-Smart Commodities Program, leading to questions about the ability for the program to satisfy the existing demand with its present resources.
This week's video also features thoughts on immigration and the future of the Farm Workforce Modernization Act from Chuck Conner with the National Council of Farmer Cooperatives, Allison Crittenden with the American Farm Bureau Federation, Dave Gagner with the National Fish and Wildlife Foundation and Cal Poly's Ricky Volpe.
Newsmakers is also available as a podcast and/or you can sign up to get free access to Newsmakers.