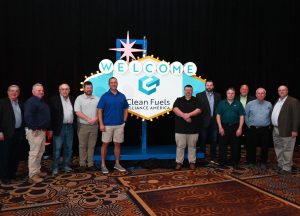 Minnesota soybean and biodiesel industry leaders had a chance to attend last week's National Biodiesel Conference on behalf of the Minnesota Soybean Research & Promotion Council's (MSR&PC) See For Yourself program.
After a year hiatus due to the pandemic, the NBB See For Yourself program returns in 2022, and industry leaders are ready to get back on track to continue learning about the growing biodiesel industry. With Minnesota having one of the largest impacts in the push for biodiesel, MSR&PC understands the value of engaging with industry leaders about how checkoff dollars are invested. The See For Yourself program gives individuals the ability to see firsthand what MSR&PC is doing to make a difference in Minnesota and how biodiesel makes a huge impact for the profitability of soybean farmers.
Among those who attended were MSR&PC farmer board members Jim Willers and Ron Obermoller, Nick Bredeson with Kibble Equipment and Dan Schmidt, Ag Partners Coop. We had a chance to chat with them and get their reactions to what they saw for themselves at the biodiesel conference.
NBB2022 Interview with Jim Willers, MN Soy
(2:55)
NBB2022 Interview with Nick Bredeson, Kibble Equipment, MN Soy
(1:50)
NBB2022 Interview with Dan Schmidt, Ag Partners Coop, MN Soy
(2:25)
NBB2022 Interview with Ron Obermoller, MN Soy
(4:20)