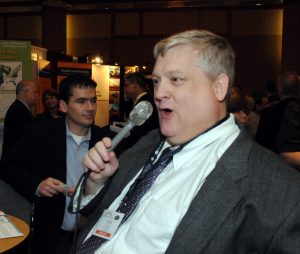 So sad to hear over the weekend about the passing of Tom Riter, farm broadcaster with WNAX radio in Yankton, South Dakota. Tom was a member of the National Association of Farm Broadcasting (NAFB) for over 25 years.
Tom Riter was born and raised in Rock Rapids, Iowa, where he spent many summers walking beans and detasseling corn. After graduating from the University of Northern Iowa and attending Brown Institute, Tom filled a variety of roles on the air as a morning-show personality, sportscaster, overnight announcer, and then news director for KORN radio in Mitchell, South Dakota, and KGRN in Mitchell, Iowa. His first introduction to farm broadcasting came in Aberdeen, South Dakota, where he was part of a pilot project at KKAA and KQAA radio, serving as both news and ag director.
In 1991, he moved to Colorado, where he served as farm director until 1998 before taking a position with WNAX radio in Yankton, South Dakota, where he contributed to both the farm and news departments.
A celebration of life service with family fellowship is set for 6 p.m. Thursday, Dec. 2, 2021 at Calvary Baptist Church, 2407 Broadway Ave., Yankton, SD. Goglin Funeral Home in Yankton is handling arrangements.