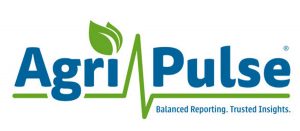 Agri-Pulse is hosting a webinar Wednesday, December 1, entitiled "AgriTalks Brazil/USA – Green technologies in agribusiness for a sustainable future." The free program is part of a series created by Apex-Brasil and includes the participation of high-level Brazilian and U.S. spokespersons, including ministers, CEOs and others.
"AgriTalks Brazil/USA" will consist of two panel discussions. The first will cover green agriculture policies and investments in Brazil and U.S. The second will discuss Agritech: startups and the innovation bridge. You can sign up for this free webinar by clicking on this link. Agri-Pulse Senior Trade Editor Bill Tomson will serve as moderator for the event which begins at 11 a.m. EST.
The webinar is organized by Agri-Pulse Communications, Inc. and Apex-Brasil. The event is also supported by Brazil-U.S. Business Council, Embassy of Brazil Washington D.C., EMBRAPA and the Brazilian Government: Ministry of Agriculture, Livestock and Supply (MAPA), Ministry of Science, Technology, Innovations and Communications (MCTI) and Ministry of Foreign Affairs (MRE).