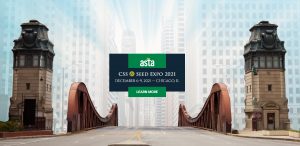 America's largest seed industry conference is back live, in-person and better than ever at the Hyatt Regency Chicago December 6-9, 2021.
The American Seed Trade Association (ASTA) 2021 CSS & Seed Expo is expected to attract more than 2,000 seed industry professionals from 36 countries. While virtual attendance options are offered, 98-percent of registrants so far have chosen to attend in-person.
The event has been held at the Hyatt Regency for decades, until last year forced ASTA to go virtual. After a year away, ASTA president and CEO Andy LaVigne says attendees will find some new experiences with a chance to visit "Villages" themed to the major segments of our conference sessions and exhibitors.. "We're going to be moving a little more around the hotel," said LaVigne. "We've got four different Villages between the East and West Towers of the Hyatt Regency."
The Villages will focus on themes of leadership, innovation, seed treatment, and the field. Each village contains a session theatre, relevant exhibitors to those sessions, networking tables and lounges and "Food Truck" simulations – creating a new small plates food festival around the entire event.
Learn more about what's in store at the 2021 CSS and Seed Expo in this interview.
2021 ASTA CSS preview with CEO Andy LaVigne (6:56)