It was a bipartisan biofuels day at the Farm Progress Show Wednesday.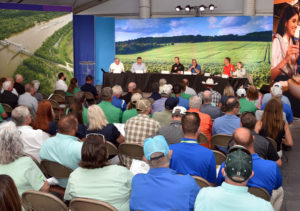 First, six Republican members of Congress from Illinois, Iowa and Indiana held a Biofuels Summit at the show to discuss the importance of ethanol and biodiesel to the region and the challenges being faced by the biofuels industry.
House Biofuels Caucus Co-chair Congressman Rodney Davis (R-IL) was joined by Mike Bost (R-IL), Darin LaHood (R-IL), Randy Feenstra (R-IA), Mariannette Miller-Meeks (R-IA), and Jim Baird (R-IN) to hear from farmers and others at the show about a number of issues, including maintaining the Renewable Fuel Standard (RFS), keeping E15 year round, and tax issues, just to name a few.
FPS21 Congressional Biofuels Summit
(1:19:42)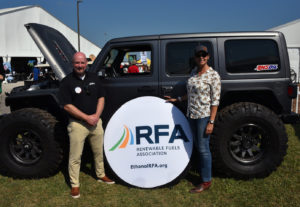 In addition, Rep. Cheri Bustos (D-IL) paid a visit to the show and talked about her Next Generation Fuels Act introduced last week in the U.S. House. "It would require manufacturers of vehicles to make sure it could burn to start, E20, and go all the way up to E25 and E30 over the coming decade," she said.
Bustos says the bipartisan legislation first goes to the Energy and Commerce Committee and she hopes to get it passed as either a stand-alone or as part of another environmental bill.
Renewable Fuels Association President and CEO Geoff Cooper, pictured here with Rep. Bustos at the RFA exhibit, says they are very supportive of the legislation. "If we are able to get her bill passed, it would really open a new chapter of growth for the renewable fuels industry. It has virtually every regulatory fix that we need in there, it's got an octane standard, it's got a low carbon requirement…it would really benefit our industry in many ways."
Interview with Rep. Cheri Bustos (D-IL) about Next Generation Fuels Act
FPS21 Interview with Rep. Cheri Bustos (D-IL) (3:37)
Interview with Geoff Cooper, President and CEO, Renewable Fuels Association
FPS21 Interview with RFA CEO Geoff Cooper (11:12)