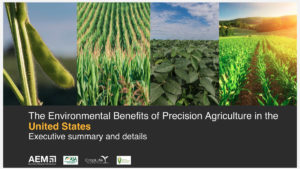 As the use of precision agriculture techniques and technology grows, so do the benefits to the the environment. Here's a new study showing those benefits.

The Association of Equipment Manufacturers (AEM), in partnership with the American Soybean Association, CropLife America, and National Corn Growers Association, released a study quantifying how widely available precision agriculture technology improves environmental stewardship while providing economic return for farmers.
Precision agriculture leverages technologies to enhance sustainability through more efficient use of critical inputs, such as land, water, fuel, fertilizer, and pesticides. Farmers who use precision agriculture equipment use less to grow more.
The Environmental Benefits of Precision Agriculture study highlights how policies and technological advancements can help farmers increase these outcomes.
"We are living in a new age of agriculture, and today's precision technology on equipment can have an enormous positive impact on farmers and the environment," said Curt Blades, Senior Vice President of Agriculture at the Association of Equipment Manufacturers. "One of our goals at AEM is to encourage the adoption of these technologies by more farmers, so they can all reap the benefits as we continue to focus on sustainability."