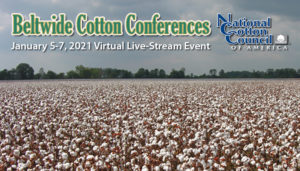 The National Cotton Council (NCC) 2021 Beltwide Cotton Conferences kicks off the winter virtual meeting schedule this week January 5-7.
The virtual platform, utilizing existing on-line meeting technology, will include three days of live-streamed individual reports and panel discussions from the technical sessions along with poster presentations and seminars designed to provide attendees with information they need to help producers make key cotton production/marketing-related decisions.
Lauren Krogman, NCC Manager for Marketing & Processing Technology, says the event translates well to a virtual format and allows for greater access to the presentations and seminars. "The beauty of all of this being virtual is that all of our Zoom sessions will be recorded so we'll have a very quick turnaround time to make things on demand," she said.
ZimmComm will be providing a virtual newsroom for the media that will include images and interviews from the various conferences and seminars. Marjory Walker, NCC Vice President for Council Operations, encourages members of the media to contact them with any specific interview requests. "ZimmComm will be conducting interviews and we already have a number of them lined up based on the pretty exciting topics that we have on the agenda," she added.
Find more information on the Beltwide website and learn more in this preview interview with Lauren and Marjory here.
2021 Beltwide Cotton preview with Lauren Krogman & Marjory Walker, NCC 5:14
The virtual newsroom is already started and content will be added as it is produced.
2021 Beltwide Cotton Conferences Virtual Newsroom