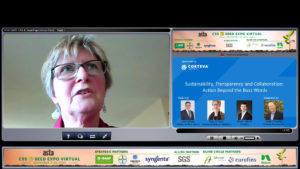 Sustainability is real for Iowa farmer and former National Corn Growers Association president Pam Johnson, a sixth-generation farmer who works with her husband, their two sons and their young families to produce corn and soybeans.
"We can see with our own eyes how things have improved and that we're able to do a better job year after year," she says. "And to me that continued improvement is what sustainability is all about."
Johnson was on the panel of a Corteva Agriscience seminar at the ASTA CSS & Seed Expo this week entitled "Sustainability, Transparency and Collaboration – Action Beyond the Buzz Words," along with Steven James of PepsiCo and ASTA chair John Latham, Latham Hi-Tech Seeds. She currently serves as a director of MAIZALL, an international maize alliance of the corn grower associations.
In this interview, we discuss MAIZALL, sustainable practices on her farm, and working with other industries on sustainability. She also comments on a new presidential administration, the state of the ethanol industry, and cautious optimism for 2021.
ASTA Interview with Pam Johnson, Iowa farmer
(17:12)
Find more content from ASTA CSS here:
2020 ASTA CSS & Seed Expo Virtual Newsroom