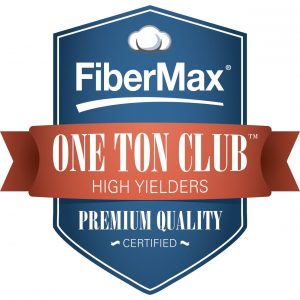 BASF recently celebrated 92 cotton growers who achieved four-bale or greater yields by welcoming them to the exclusive FiberMax®One Ton Club™ for their 2019 harvest results. There are 14 first-time members in the group of winners for 2019, bringing total membership to 1,206 cotton growers.
Special awards were presented for:
Most Varieties: Apple Creek Farms of Garden City, Texas, earned the most varieties planted using FM 2334GLT, FM 2398GLTP, FM 2498GLT and FM 2574GLT.
Most Acres: Kitten Land Company of Lubbock, Texas, harvested an average yield of 2,164 pounds per acre on 475 acres with FM 1830GLT and FM 2498GLT.
Highest Loan Value: Micah and Magen Carter of Wellington, Texas, garnered $0.5722 on their qualifying acres with FM 1830GLT.
Highest Yield: Gary Shiflett Farms of Deming, New Mexico, harvested an average yield of 2,796.82 pounds per acre with FM 2498GLT.
Highest Gross Value: Gary Shiflett Farms earned $1,589.71 per acre on their qualifying acres with FM 1830GLT.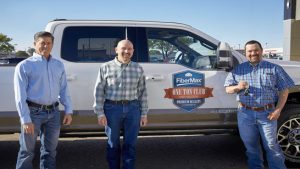 Each year, One Ton Club members are entered into a drawing for a two-year lease on a Ford Super Duty F-350 King Ranch® pickup truck. This year's winner was Blake Fennell of Earth, Texas. Fennell qualified for the One Ton Club with FM 1911GLT.
"It's been a tough year for cotton growers, but these growers took on the challenge and still accomplished excellent results," said Rachel Walters, Cottonseed Marketing Manager, BASF. "We're proud to offer growers advanced genetics that deliver premium fiber quality, high yield potential and up to $159* more per acre than the competition, giving them the economic advantage they need in today's tight markets and tough growing conditions. We appreciate the opportunity to celebrate their remarkable milestones with the FiberMax One Ton Club."