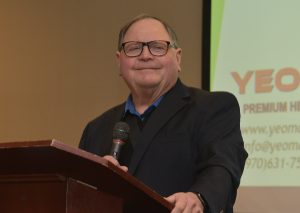 The 2020 Heart of America Agricultural Hemp Classic provided some key information to an audience Missouri Hemp Association Executive Director Bill Cook described as "hungry" when it comes to learning more about the hemp industry.
"I think the big thing that stood out to me is that we have a pretty wise and cautious group of producers that are very proactive, very much want to be involved in the hemp business. They see the hemp plant as a long term play," said Cook. "I really believe our Midwest growers are going to be up to the task to really make this hemp industry the miracle product that we believe it is. It was a very, very exciting conference."
Cook said membership in the association has more than doubled in its first year of existence, and the group is expanding with its One Voice program to create a bigger footprint across the Midwest. He expressed excitement about the plan to move next year's conference to the Western Farm Show for even more exposure.
Listen to Chuck's interview with Bill here: Interview with Bill Cook, Missouri Hemp Association