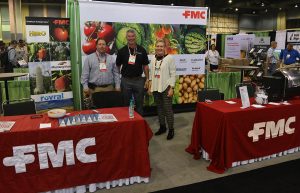 Since the 2017 acquisition of DuPont assets brought the diamide chemistry over to FMC, the company has continued to increase its presence in the fruit and vegetable market.
"We've been in this market, but not to the substantial efforts we have today," said Bubba Stripling with FMC. "And with the pipeline that's coming we're looking for tree, fruit and vegetable products. So it's important for us to be here now, and ever since 2017 you'll see FMC's faces and familiar faces in the tree, fruit and vegetable market."
Stripling said products like Coragen and Verimark continue to perform well against piercing and sucking pests like white fly. FMC exhibited at the 2020 Southeast Regional Fruit and Vegetable Conference in Savannah, Ga.
Listen to Chuck's interview with Bubba here: Interview with Bubba Stripling, FMC
2020 Southeast Regional Fruit and Vegetable Conference Photo Album