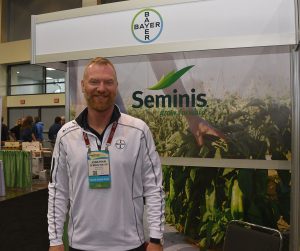 Bayer continues to serve produce growers in the southeastern part of the country with the Seminis vegetable seed brand and a strong crop protection portfolio. Research and development continues to be a focus, according to Jonathan Mein, Eastern U.S. Commercial Lead.
"If you look at fruit and vegetable variety development, it requires a lot of work, a lot of data," said Mein. "You look at advances in molecular technology, all these pieces that allow us to understand genetics a lot better have helped us to a degree and requires that R&D investment, but ultimately we still continue to maintain a very strong and robust connection to the field level."
Mein said 19 different species of crops are available to the eastern United States under the Seminis brand, with peppers, sweet corn and watermelon getting the most focus in the southeast. He said growers attending the 2020 Southeast Regional Fruit and Vegetable Conference had specific questions about Bayer products as well as inquiries about markets, labor availability and water quality.
Listen to Chuck's interview with Jonathan here: Interview with Jonathan Mein, Bayer
2020 Southeast Regional Fruit and Vegetable Conference Photo Album