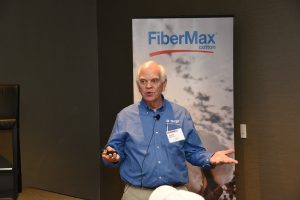 Weed control was among topics discussed at the 2019 BASF APT Summit in New Orleans. BASF Technical Service Representative Alvin Rhodes presented an overview of current crop protection products available to cotton growers.
"Well, we at BASF are, of course, very excited that now we have such a broad list of products that we can help the cotton farmer with," said Rhodes. "Having a spectrum of products to help those growers is very important and we are planning for the future for the pipeline of things that may even be needed further down the line."
Rhodes said weed control is imperative as even highly productive varieties won't produce if challenged by pests or weeds. He said overlapping modes of action will help the long-term survival of crop protection tools, but noted there have not been many new modes of action for herbicides recently. He said trait technology is now beginning to include weed control, and growers are eager to learn about their options.
"I think it is going to be a great 2019," said Rhodes. "I think cotton acres are going to be up, and our goal is to help those growers who are planting cotton that they can utilize the best technology available and use it timely and properly so they can get the best weed control opportunities they have over the course of the season."
Listen to Chuck's interview with Alvin here: Interview with Alvin Rhodes, BASF
Listen to Alvin's presentation here: Presentation by Alvin Rhodes, BASF