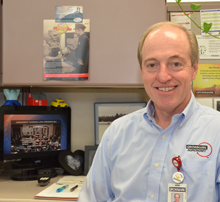 While farmers and cooperators gathered at GROWMARK's annual meeting in Chicago last week still have concerns about what's happening in the nation's capitol, they continue to be optimistic about agriculture.
"I think what they're concerned about is where the election is going to go and what that means for their business. Overall, the mood is still very strong in the agricultural sector, and that's in the face of some very challenging pricing," said Chuck Spencer, GROWMARK director of corporate and government relations.
Spencer said the month of September is critical when it comes to farm bill discussion, as well as trade agreements. Even though harvest is just beginning across the Midwest, farmers and agribusinesses are already making decisions that will impact next year's growing season.
"Business and farmers alike like to know consistency of regulation. What are the programs? How are they going to be implemented? Certainly, transparency in their development and then predictability of what will occur in the coming updates of regulation," said Spencer.
Other important concerns for farmers include risk management, conservation, and regulatory items like the Waters of the United States ruling.
Listen to Carrie's interview with Chuck here: Interview with Chuck Spencer, GROWMARK