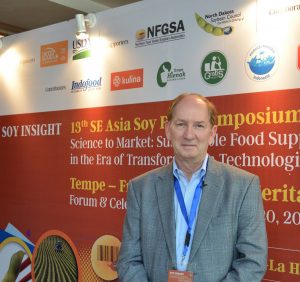 The U.S. Soybean Export Council (USSEC) hosted its 13th SE Asia Soy Food Symposium and Ag Supply Chain Asia 2018 events in Surabaya, Indonesia, bringing together all stakeholders in the soy food industry in that region. Among those participating were exporters of United States soy products like Bob Sinner, President of SB&B Foods, Inc. in North Dakota. Sinner has been in the export business since 1988.
"As business has expanded internationally, we look at this region as a pretty key area for growth. The economies of Indonesia and Vietnam, particularly, are some of the highest GDPs in all of Asia," said Sinner, who is the fourth generation to work in the family business.
The event brought together over 100 soy food companies to talk about opportunities, challenges, and new things that are going on in the industry.
"All of the markets bring benefits back to the North Dakota soybean producers as higher premiums for identity preserved soybeans," said Sinner. "These farmers are making a commitment to produce and provide a quality soybean that is used directly into the soy food industries. This is a real opportunity for North Dakota producers, as well as other growers in different regions."
Sinner said soy has gotten the attention of the world as the health benefits of soy continue to impress everyone in the industry. The Southeast Asian region specifically represents growth in the soy industry that stands to greatly benefit U.S. suppliers and producers.
Listen to Jamie's interviews with exporters of U.S. soy:
Interview with Bob Sinner, SB&B Foods, Inc.

Interview with Dan Pengra, CHS, Inc.

Interview with Craig Pietig, Ag Processing Inc.

Interview with Brian Arnold, The DeLong Company, Inc.