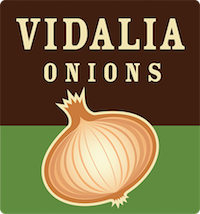 Vidalia onion growers launched the 2017 season this week, marking the 25th anniversary of the Vidalia onion trademark.
Vidalia onions, grown in unique soil and climate conditions found only in 20 South Georgia counties, are revered by some of the world's best chefs and home cooks for its sweet, distinctive flavor. The Visalia is Georgia's official state vegetable, grown on 12,000 acres annually, and represents about 40 percent of the sweet onion market. Sold in every U.S. state, the annual value of the crop is about $150 million. 100 registered growers produce the annual crop, available in the spring and summer months, and the first date they can be shipped is determined by the Georgia Department of Agriculture.
"We are excited every year when we are able to start shipping our hand-planted and hand-harvested Vidalias," said Troy Bland, chairman of the Vidalia Onion Committee (VOC). "However, this year is special because we are celebrating the 25th Anniversary of the Vidalia onion trademark that has assured people across the country that they are enjoying the one and only original sweet onion."
The VOC also announced a new marketing campaign to celebrate the 25th Anniversary of the trademark. The "Only Vidalia" campaign highlights the provenance of the Vidalia onion that has been hand crafted by grower artisans for more than 80 years in Georgia. It reminds people that only Vidalia onions have the sweet, mild flavor profile that has made it an essential ingredient for wide range of dishes including salads, dressings and even desserts.