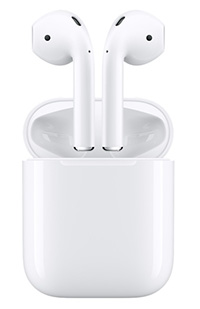 I've been asked about Apple AirPods too many times to ignore. So here are my thoughts.
Bottom line is: there are no AirPods right now. I would forget about them and move on. Here's why.
There is no good alternative.
That's it. I've done my research for you. But you probably think there has to be something. Not really. Some of you may not actually know anything about this or care but for those who do here are some things to ponder.
1. Since Apple took the ear bud jack out of the iPhone 7 you can only connect to it via a little adapter cable they include or bluetooth. They thought they would have AirPods ready but really missed the boat on that. So, now you have a device that you have to choose between connecting a power cord or ear buds/headset. You can't do both at the same time.
2. There are adapter cables available that will let you connect power and ear buds but they don't provide full functionality on your device like call answering, skipping songs, etc. And they are fugly. But consider this. If you are listening to music on your device do you usually have it plugged into power at the same time? I don't. This single jack controversy just isn't a big deal in my opinion.
3. Don't spend your money on other bluetooth ear buds yet. The technology is not ready for prime time. They are even more expensive than AirPods are supposed to be too.
4. If you have an iPhone 7 and want quality ear buds or a headset but don't have them I think you're better off getting an existing relatively affordable product while you wait and see if true bluetooth ear buds show up.
5. I've looked at the Bragi Dash ($299.00 and mixed reviews) and a number of other options. I don't want a thing wrapped around the back of my head, over the ear cups or wires if I'm going to spend a lot of money. I'll keep using my Bose QC buds for now thank you very much Apple.
Now if you know of something I don't please feel free to comment or let me know. Tx.
Post Update:
Here's an option brought to my attention. Skybuds
Update #2:
Apple AirPods are now on sale.