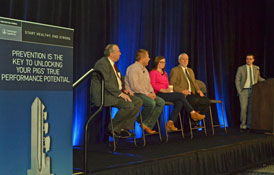 Boehringer Ingelheim Vetmedica Inc. (BIVI) got the 2016 American Association of Swine Veterinarians meeting off to a healthy start Friday with a twist on their traditional pre-AASV Swine Health Seminar, hearing from vets in other animal agriculture fields.
"It was a very unique program, different than what we've had in the past," said Dr. Nathan Schaefer, BIVI Professional Service Veterinarian. "Our goal was to focus on starting healthy and ending strong."
Speakers included veterinarians who specialized in cattle, poultry and fish. "What was really clear is that we need to reach out to other industries and learn from them how we can do a better job raising hogs," Schaefer said. "It's all about prevention."
Listen to my interview with Dr. Schaefer here: Interview with Dr. Nathan Schaefer, BIVI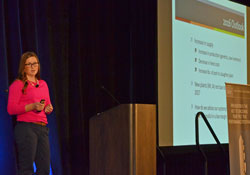 Dr. Abbey Harding of Lowe Consulting, Ltd. in Illinois was the only one of the four vets at the BIVI seminar to talk directly about swine health and why it is so important right now with low margins expected in the coming year to be more efficient. "Things that we're looking at are trying to be able to capitalize on that low margin economy that we have, and being able to get producers in the mindset that every little dollar counts," she said, adding that the industry as a whole needs to evaluate everything they do to decide if it is really creating value.
Hearing from the other animal industry vets was a great experience for Harding. "Really being able to see how intergrated and tied we are together to be able to produce protein," said Harding.
Listen to my interview with Dr. Harding here: Interview with Dr. Abbey Harding, Lowe Consulting
BIVI 2016 AASV Meeting Photo Album
Watch for further coverage of the AASV meeting, sponsored by BIVI, here and on Animal.AgWired.com.
Coverage of American Association of Swine Veterinarians annual meeting sponsored by