Matt Hancock, FMC Corn Segment Manager, says his company is helping growers to maximize their yields and returns with a new launch Ethos XB. "The Interpretation of Ethos is a new beginning and that's what we consider this line," he said.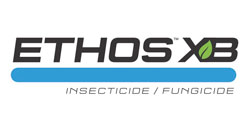 "It's a new beginning for FMC. FMC is a long time insecticide company who has come up with a lot of innovations for growers over the years in the insecticide line, and now we're combining insecticide and fungicide into one super convenient formulation to be applied in liquid fertilizer," explained Hancock. Ethos XB is a new liquid fertilizer ready insecticide combined with fungicide.
Many growers have heard about FMC's "zone of production". Hancock said this refers to the engaging in a multi-approach strategy such as protecting the stand and protecting plant health overall. Ethos XB combines an insecticide with a biofungicide and the intent, he said, is to outperform the existing methods of diseases in seedlings. In those areas that need longer control (research shows after two-three weeks seed treatments can lose efficacy) they are offering protection that literally grows with the roots that form a biofilm that kills pathogens.
Hancock said FMC is really excited about the entire platform and is confident the brand will take off over the next few months as more farmers hear about the product and its benefits. Growers can learn more by speaking with an agronomist or FMC star retailer.
To learn more, listen to Chuck Zimmerman's interview with Matt Hancock: Interview with Matt Hancock, FMC, on Ethos