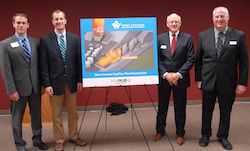 West Central celebrated a big announcement this morning at their headquarters in Ralston, Iowa. The manufacturer of SoyPlus, an industry-leading high bypass protein dairy feed, made public their plans for expansion of the SoyPlus plant to increase production capacity by 50%.
The $27 million investment will include an additional line of mechanical presses, soybean storage, soybean oil storage, finished product storage and load-out access. The addition will come on in phases with new production volumes available as early as fall 2016.
Milan Kucerak, President and CEO of West Central, shared his excitement for the announcement and explain their unique diversity when it comes to coops. Their development of Dairy Nutrition Plus gives them a huge upper hand when it comes to animal nutrition. We also heard from Mark Cullen, West Central's Executive VP of Animal Nutrition, who said the multi-million dollar expansion will create 11 new jobs and an additional 1,800 tons of SoyPlus production.
Iowa Deputy Secretary of Agriculture was also present to share in the celebration of Iowa's growing agriculture community. He is excited for the opportunity for local growers and the potential for dairies nationwide with the use of West Central's Dairy Nutrition Plus. He also commented on the latest numbers of birds in Iowa impacted by avian flu.
You can also listen to remarks from Grant Kimberley, director of market development for the Iowa Soybean Association. Grant said adding value to the soybean in turn adds values to all livestock and the entire ag sector. He added that this West Central expansion will open doors both domestically and internationally.
Listen to the complete press conference here: West Central Presser