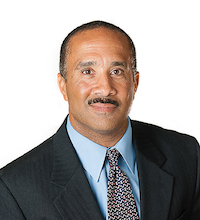 The National Agri-Marketing Association (NAMA) has named Clint Lewis, Executive Vice President and President, U.S. Operations, Zoetis, as the 2015 Agribusiness Leader of the Year.
This award, which is NAMA's highest honor, recognizes outstanding leadership in private, public or academic service and is conferred each year to a senior agribusiness executive who not only exemplifies excellence in agribusiness but has also made significant contributions to the industry. Now in its 15th year, the award will be presented at the Opening General Session of the 2015 Agri-Marketing Conference, "Growing Greatness," April 16, 2015, in Kansas City, Mo.
Zoetis is the world's largest animal health company, established when Pfizer announced that its animal health business would become an independent company. Mr. Lewis helped launch the entity and now oversees the management of the livestock (cattle, pork, and poultry) and companion animal (small animal and equine) businesses in the United States and is also responsible for leading the global genetics business.
Mr. Lewis has helped to spearhead Zoetis' ongoing commitment to support and help advance the veterinarian and livestock producer profession to continuously raise the bar on animal health. Through funding student scholarships, internships, research fellowships and professional continuing education workshops, Zoetis does more to support the veterinarian and producer profession in the U.S. than any other company.
As a member of Zoetis' Executive Committee and immediate past chair of the Board of Directors for the Animal Health Institute (AHI), Mr. Lewis has played a key role in helping to advance legislation to support both veterinarian and livestock producer groups and to ensure support for animal care. A member of AHI since 2007, Mr. Lewis previously served as AHI chair for the 20011-2012 term. AHI is the trade association for the animal health industry in the U.S. advocating on various issues important to the industry, including efficient and effective regulatory and approval processes by the U.S. Department of Agriculture (USDA), the Food and Drug Administration (FDA), and the Environmental Protection Agency (EPA).
Prior to his current position, Mr. Lewis served as president, U.S. Operations in the Pfizer Animal Health organization. He joined Pfizer Animal Health in 2007 after nearly 20 years in Pfizer's human health operations.