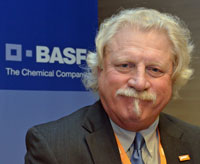 Two main trends emerging in the seed industry are biological crop inputs and seed coatings, according to Mike McFatrich, BASF global seed solutions business director.
"I think we have seen a real increase in looking at more sustainable options and being able to do more with less," said McFatrich at this week's CCS 2014 and Seed Expo in Chicago where BASF is a major sponsor. "Both the biological crop input products, which impart either a biofungicide or nutrient-enhancing characteristic, and the seed coatings are two very strong trends moving forward."
McFatrich says both of these areas are specifically interested in these two areas and the acquisition of Becker Underwood two years ago has helped the company broaden its footprint in that space. "When we look at the combination of traditional seed applied fungicides and insecticides with biologicals and coatings, we're looking at extending the window of protection," he explained.
Listen to my interview with Mike here: Interview with Mike McFatrich, BASF
2014 ASTA CSS & Seed Expo photo album