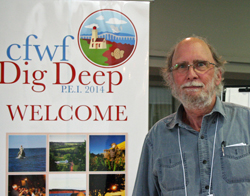 "Dig Deep" was the theme for the Canadian Farm Writers Federation 2014 conference in Prince Edward Island, and professional development time was spent digging deep into using video, even if you are a print journalist.
"Everybody (in journalism) has to be kind of a Swiss Army Knife now, you have to be able to do it all," said Ian Petrie, a former CBC journalist and now video journalism instructor at P.E.I.'s Holland College. That includes audio, video, web, and print – which all involve different skills.
Petrie's presentation focused on how print journalists can learn to do good video. "There are some stories that really benefit from video," he said. "We have to evolve a bit and think about the role that video is playing."
He notes that anyone with a smartphone is a video journalist. "The question for us as journalists is how can we distinguish our work as being better." Petrie says.
He suggests journalists carry a small tripod to get more steady shots, get good sound, and mix up shots – all of which he says make an edited piece more interesting.
Canadian correspondent Trudy Kelly Forsythe of Cultivating Communications interviews Petrie here: Interview with Ian Petrie, video instructor

2014 Canadian Farm Writers Federation conference photo album