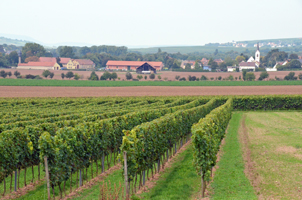 As everyone in the United States was waking this morning to a political battle and a government shutdown, a few lucky U.S. agricultural journalists were enjoying a day in the countryside of central Germany topped by a fabulous luncheon and delicious wine that came from the vineyard we toured, courtesy of our friends with BASF Crop Protection.
Our guide for the tour of Weingut Wiesenmühle was Verena Schottle who told us that the 300 year old estate, owned by the Schilling family, has 185 hectares of vineyards and more than 200 hectares of other crops including cereals, potatoes and sugar beets.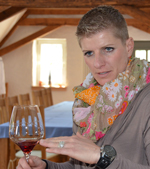 It's harvest season for grapes in Germany and Verena says it was a difficult year but the grapes look good now. "Winter had been very long and very cold, then the rain starts, the springtime was also very cold, and we have rain in March, April, May and June – June it also was too cold. But we've had a very nice summertime, a hot July, the grapes can ripen in a very fine September," she said.
Verena says they use fungicides 8-10 times a year to protect the crop but they use biologicals for insects.
Listen to this shared interview with Verena between me and Cyndi Young-Puyear of Brownfield Ag News. Interview with German viticulturist Verena Schottle