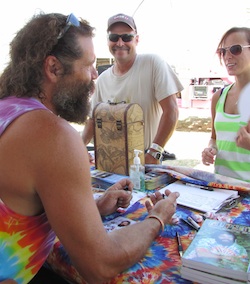 The TruAg exhibition was home for Rupert Boneham this week at the 2013 Farm Progress Show in Decatur, IL. Rupert is known for his role on reality TV where viewers voted him the million dollar winner on Survivor: America's Tribal Council.
Rupert started a vocational mentoring program, Rupert's Kids, 23 years ago. The program helps young adults, starting at age 18, learn to fill out job applications, read important materials, and teach men and women how to make a legal living. Rupert's Kids has reached almost 1,000 individuals in the nation and helped them get back on there feet.
"At 22 or 23 years old, if you can't read or write, if you can't fill out an application, if you have no work history, and if you have felonies, then you're not going to work. Heck, you're not even going to have a place to live," said Rupert.
Tune in to the next season of Survivor and watch as Rupert returns for the fourth time, starting September 18.
Listen to my interview with Rupert here: Interview with Rupert
2013 Farm Progress Show Photo Album
Coverage of the 2013 Farm Progress show is sponsored by Bayer CropScience, Growmark and New Holland