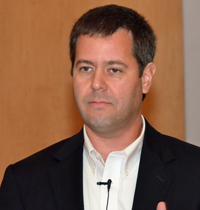 Food safety is one of the major factors driving consumer food demand which makes salmonella a food safety priority for the pork industry.
Dr. Marcos Rostagno with USDA-ARS at Purdue University told producers at the Boehringer Ingelheim North Carolina Health Seminar that awareness of the on-farm risk factors for salmonella contamination is the first line of defense. "Particularly paying attention to the feed as not only as a potential source but as an exposing factor, control of pests – rodents, birds, things like that," he said. "Also of critical importance is sanitation to minimize persistence of these pathogens."
Rostagno also discussed a recent study on the impact of feeding the ethanol co-product distillers dried grains with solubles (DDGs) on salmonella and risk factors at other stages from pig to pork.
Listen to my interview with Dr. Rostagno here: Interview with Dr. Marcos Rostagno, USDA-ARS
BIVI NC Swine Seminar Photo Album