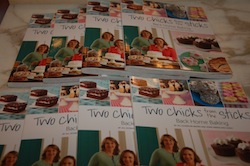 Boehringer Ingelhiem held a Swine Link networking event in Des Moines, Iowa this weekend, for women from around the country working in the swine industry. During the first day, the group hung out at Meredith Publishing, the home of the famous test kitchens. While there the ladies were treated with a cooking demonstration from one of the authors of the cookbook, Two Chicks from the Sticks.
The best selling cookbook was originally published by Meredith and authored by best friends, Jill Means and Jamie Greenland.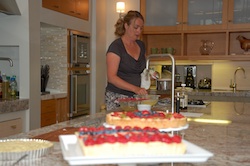 Jill, who lives in Des Moines, gave the group a cooking lesson and the featured dessert: a 4th of July tart. It was fabulous. While I'm traditionally lazy in the kitchen, I felt quite inspired by Jill's lesson and I learned some cooking terms I'd always wondered about and also learned why certain things are done certain ways, for example why you should crack your eggs in a separate bowl before adding then to your ingredients.
The cooking demonstration set a great table for the group to get to know each other better while eating great food. The cookbook is available now and you can purchase it here.
Check out the photos from the event in the Swine Link photo album.