Burton Eller was fighting for the rights of cattle producers when Ronald Reagan was president, but now he plans to finally ride off into the sunset and spend more time on the ranch.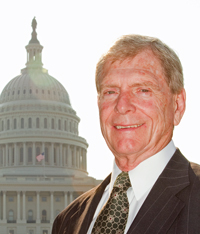 Burton has served the cattle industry in many capacities, most recently as National Cattlemen's Beef Association (NCBA) Senior Vice President of Member Services and Industry Affairs. He started back in 1981 as vice president of government affairs for the former National Cattlemen's Association (NCA) from 1981-1991, served as CEO of NCA from 1991-1996 and was actively involved in the merger of the former National Livestock and Meat Board and NCA to form NCBA in 1996.
NCBA CEO Forrest Roberts said Eller has been an unwavering advocate of the U.S. beef cattle industry and also contributed to the development of the beef checkoff. "Burton played a pivotal role in the development and passage of the Beef Promotion and Research Act in the 1985 Farm Bill," said Roberts. "He led the efforts to secure congressional passage of the one dollar per head national beef checkoff."
Burton also served as the deputy under secretary of marketing and regulatory programs at the U.S. Department of Agriculture (USDA) during the Bush Administration, then returned to NCBA in 2008 to lead the association's DC office. He is retiring as of September 30 to spend more time with his family and his cattle operation, but says he plans to remain active in NCBA and the cattle industry.