While I was in Chicago for the Boehringer Ingelheim Foundations Seminar I also got to stop in at the DTN/The Progressive Farmer 2008 Ag Summit. They've been a sponsor of AgWired and some of our collateral material like the ZimmNews and ZimmCast for a few months now. I found publisher, Adrian Blake, and we sat down for a discussion. I learned that this is their second Ag Summit and it has grown from 200 producers last year to 400 this year. The topic for the Summit this year is, "Brave New World, Your Map For Managing Ag Risk." Adrian says that it is gratifying to meet with their subscribers on a personal level and that the event shows how they've not only become a multimedia company but are now incorporating live events into their information strategy.
I pursued the multimedia aspect of how DTN has evolved since I've closely watched the evolution of the company and was even an employee for a short time. Adrian says that expanding their media options is important on two levels. For one thing it's important to their advertisers to have the most relevant media options and it's also important for their subscribers as they offer information options to help them solve problems and become more profitable.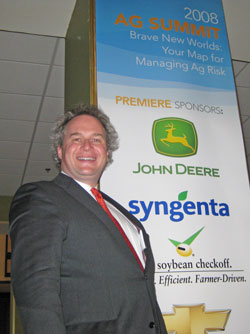 Besides DTN and The Progressive Farmer they're also involved in new media and a project that Adrian is really excited about – The DTN Marketspace. He says, "It's like eBay for corn." As he puts it, this new project is for those who thrive on producing commodities and are open to new ways of doing business. He says they're "the sort of people who have figured out that AgWired is a good place to get information." I also love another remark he made about AgWired, "It's Chuck's world. We're all just living in it." I think that speaks to the sense of community that I've tried to create here. Thanks Adrian.
When it comes to blending media outlets like DTN and a magazine like The Progressive Farmer, Adrian says it has gone seamlessly. In our interview he concludes by inviting people to provide feedback to him directly.
You can download and listen to the ZimmCast here:

ZimmCast 198 (13 min MP3)
Or listen to this week's ZimmCast right now:Interview with Adrian Blake - ZimmCast 198
The ZimmCast is the official weekly podcast of AgWired which you can subscribe to using the link in our sidebar. You can also subscribe in iTunes