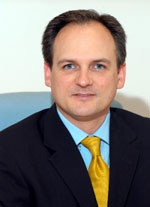 New Holland Agriculture has a new President and CEO. He's Barry Engle. He starts his job on September 8. That's the position that was assumed on an interim basis a year ago by CNH President and Chief Executive Officer Harold Boyanovsky.

"Barry Engle has extensive international management experience and an impressive record of results. We are pleased to welcome him," said Boyanovsky.
Engle has worked in the automotive industry since 1992, holding a variety of positions with Ford Motor Company in North America, Latin America and Asia. Most recently he was the President and Chief Executive Officer of Ford of Canada.