At the 2007 InfoAg Expo I had a nice conversation with Paul Schrimpf, editor, CropLife Media Group. His company was one of the key organizers of the event and the Precision Ag Awards from the Precision Ag Institute. In the photo he was announcing the award winners.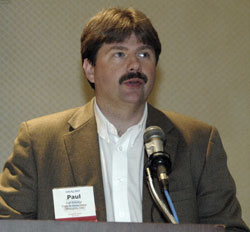 While talking with Paul he explains how they are involved with the conference. We also talked about how technology is changing the way we communicate as much as the way we farm. For example, he says that they've surveyed precision ag farmers and they're likely to have high speed internet so that's making his publication company pay more attention to what they're doing online. For one thing, they've kind of re-launched PrecisionAg.com and Paul's even making blog entries.
The program ends with music from the Podsafe Music Network and Andrew Pfaff. The song is "Information Technology." After all that's what we're talking about!
You can download and listen to the ZimmCast here:

ZimmCast 128 (17 min MP3)
Or listen to this week's ZimmCast right now:
zimmcast128-7-15-07.mp3
The ZimmCast is the official weekly podcast of AgWired which you can subscribe to using the link in our sidebar. You can also subscribe in iTunes.