Last month we asked reporters from our database of U. S. radio stations to provide us with feedback about our Talking News Release service. We did this separately to traditional farm broadcasters as I posted earlier. We told them that if they emailed us with their thoughts they'd be entered into a contest to win a digital audio player (Zen Micro). Today we are happy to announce the winner. He's Kevin Casey, News/Operations Director for WEBS-AM, Calhoun, GA. Congratulations Kevin!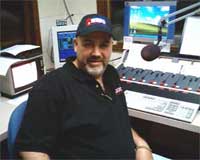 Here's Kevin's remarks:

Dear Chuck & Cindy, I think you have a great idea and hope you reap in it's rewards. As you do expand I would suggest getting clips from various athletes in all sports, I have noticed ESPN has done quite well with there line up of stations. I would also do quick feeds from celebs and maybe offer some kind of entertainment weekly or daily feed. Well that's my two cents, if it's worth it! Have a great day and thanks for your offerings.
Kevin Casey
Thanks Kevin. We hope to expand our service beyond agribusiness in the future!
I've just started on my series of articles which I'm going to categorize under "Tracking News Releases" which will include remarks from people like Kevin so keep reading.