It didn't take long but ZimmComm is set up and ready for trade show action here at the 2005 Agri-Marketing Conference & Trade Show.
We're set up right across from the NAFB booth and at the center of the action. The floor in front of us will contain a display this afternoon of the Best of NAMA award entries. The winners will be announced this evening and we'll post results when we can.
Immediately following the Best of NAMA ceremony the trade show reception begins so it may be later in the evening before I can get much posted. One of the reasons is not having high speed access at my booth. I just couldn't justify paying $600 to have it for 2 days. Can you believe that fee?
We've got these cute little Weepul guys to give away at our booth, along with some soy crayons that we actually had left over from last year. In addition, anyone I write about or who provides me with information to write about will receive a custom ZimmComm "I've been blogged by AgriMarketing Pros" t-shirt.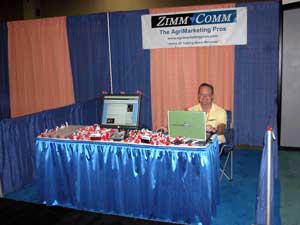 Let us know what you think of our coverage of the NAMA convention!