Prior to the start of the NAMA Convention, the Agricultural Relations Council held a day long meeting here at the Hyatt.
Carroll Merry, Countryside Marketing, sent me a couple of pictures to share with you.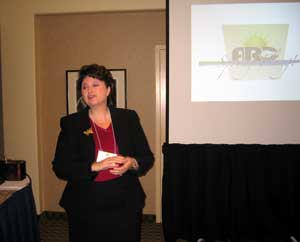 Jeri Omernik, president, Rocky Mountain Communications and president of the Agricultural Relations Council, welcomes members to the organization's Spring Fling meeting which was held April 19 at Phoenix' Hyatt Regency City Center. The focus of the meeting was on issues facing agriculture in the arid Southwest.