The World Pork Expo is in full swing and news is slowly trickling out. One of the announcements today focused on a new standard of excellence.

Pork Checkoff Unveils Symbol III at World Pork Expo.
Symbol III, the U.S. pork industry's "Standard of Excellence" for the modern market hog, was unveiled at the World Pork Expo in Des Moines, Iowa, on June 10.
"The Symbol tradition started in the early 1980s," said David Meisinger, assistant vice president of education for the Pork Checkoff. "As part of what was then the Pork Value Program, we asked ourselves what the ideal pig would look like. We called it the 'symbol of perfection'."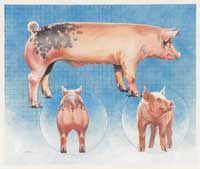 Symbol III represents our vision of the ideal market hog in the United States, said Meisinger. It continues the Pork Checkoff's tradition of creating an icon for U.S. pork. The illustration symbolizes profitability for every segment of the industry. Specialty and niche markets may require additional characteristics. Symbol III has correctness of structure, production, performance, function, attitude, health and optimum lean yield. It also produces the best quality, safest pork that provides the optimum nutrients for human nutrition.
For more information contact Cindy Cunningham.