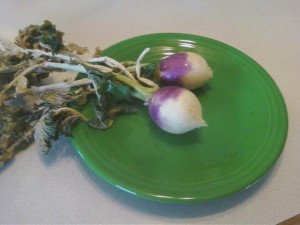 This week Aunt Jeanette writes:
Dan and I helped one of our hired farm hands move some cattle the other day. As we were driving home, I remembered that I had promised you an update on our cover crop that was planted after the corn and soybeans died.
Even though the ground is frozen now, we were still able to find some turnips we could dig. We weren't so lucky with the radishes as they were too long and broke off. Although the turnips are rather withered now, the crop turned out exceptionally good. The best part for me was seeing green, living plants where there had been brown, stripped, broken off, dead corn and soybean plants.
It was also kind of fun watching the cattle munch on the food this cover crop provided. They seemed quite content and happy to have something to eat.
I suppose you are also wondering if I cooked some turnips for Dan and tried to slip them by him, passing them off as mashed potatoes? No, I didn't. After all, he is the one that helped me dig them so he knew they were in the house. However, he also knows I have an ornery side and maybe he had better be careful when I make mashed potatoes!
Until we walk again …