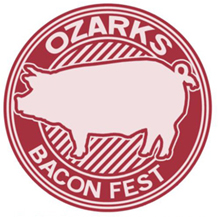 It was bound to happen and now it is official – KOZL and the Ozark Empire Fairgrounds are putting on the first annual Ozarks Bacon Festival.
Ozarks Bacon Fest – a tribute to Bacon, Bourbon & Beer – holds its inaugural tasting event on Saturday, Oct. 12, 2013, at the Ozark Empire Fairgrounds E-Plex. Tickets give tguests accss to a bacon-infused wonderland where the Ozark's best chefs prepare amazing creative bacon snacks. National brand,s artisan bacon-makers, and bacon purveyors display, sample, and sell a multitude of bacon and bacon inspired products. The best mixologists and brewers hand out bacon-inspired cocktails, beer and wine. And in honoring bacon in all its glory, Ozarks Bacon Fest will be holding a Bacon Eating Contest, a Best Bacon Recipe contest and a Bacon Art contest.
For more information, contact Larry Krauck at 417-862-1010 or lkrauck@ozarkslocal.tv.