FarmlandFinder is launching a sale-leaseback program as a part of its online marketplace for farmland.
"Talking with farmers, there is a contagious curiosity to find ways to unlock equity that's tied up in their land without giving up control of the property or taking on additional debt," says Steven Brockshus, Founder and CEO of FarmlandFinder. "Through our private investment platform, a farmer can apply for a sale-leaseback and if they qualify, they'll get connected with a qualified investor who partners with them to help unlock equity."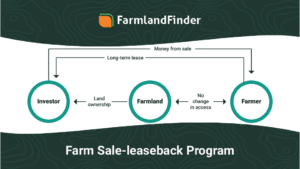 The way a farm sale-leaseback works is that an investor acquires the land from the farm owner-operator and then leases it back to them on a long-term basis. This program can provide value to farmers seeking an alternative financing solution by providing liquidity while helping them maintain on-going operational control of the land. By pairing an owner-operator with a qualified investor through the FarmlandFinder platform, a sale-leaseback can be done in a few simple steps.
Sale-leasebacks in farmland aren't new, however – FarmlandFinder makes them readily accessible to farmers who find themselves in a variety of different situations. "It could be a good program for a retiring farmer whose equity is tied up in the land, but they'd like to keep farming for a few years," says Peter Jaques, Head of Real Estate at FarmlandFinder. "Or a progressive farmer who wants to take the equity from one property and use it to buy another piece of land or invest elsewhere in their operation. The other time a program like this could be useful is when a farmer has fallen on hard-times and they need to free up some cash to keep the farm going. It may not be ideal, but at least there's an option."
To see if you qualify for a farm sale-leaseback, visit www.farmlandfinder.com/sale-leaseback.