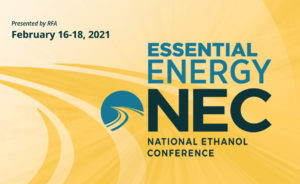 One of the very last live, in-person events to be held this year in the agriculture industry was the Renewable Fuels Association (RFA) 25th annual National Ethanol Conference in Houston. The 26th annual NEC however, will be an all digital format. Information about the conference can be found on the NationalEthanolConference.com website.
In this edition of the Ethanol Report podcast, we hear about the digital decision from RFA President and CEO Geoff Cooper, who participated in the recent virtual National Association of Farm Broadcasting (NAFB) Trade Talk. RFA Director of Special Projects and Events Mary Giglio provides more details about the 2021 NEC, and RFA Vice President of Industry Relations shares some of the good news for ethanol in 2020.
Ethanol Report on 2021 NEC
(25:56)
The Ethanol Report is a podcast about the latest news and information in the ethanol industry that has been sponsored by the Renewable Fuels Association since 2008.
Choose an option to subscribe