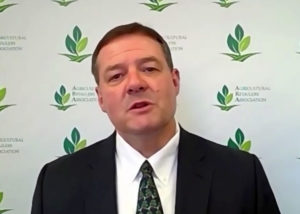 The Agricultural Retailers Association (ARA) kicked off the 2020 ARA Conference & Expo as a virtual event Tuesday, featuring keynote speakers, engaging workshops, a 3D Expo Hall and networking opportunities.
Tuesday's events included the debut of the 3D Expo Hall and the networking lounge as well as the opening general session featuring the ARA President's Report from Daren Coppock and keynote speaker Kaihan Krippendorff. Following the opening session, The Scoop's Margy Eckelkamp moderated a panel focused on insights showing the farmer of the future with Brett Sciotto and Scott Caine with Aimpoint Research.
On Monday, the ARA Board of Directors gathered for its quarterly meeting which included the review of regular business operations of the organization and opportunities to strengthen and create efficiencies.
"As the only national association representing the interests of agricultural retailers in Washington, D.C., ARA and its Board of Directors are always seeking avenues to strengthen the voice of the ag retailer," said Coppock. "And the changes in leadership from this year's election make it more important than ever to remain or become involved at a grassroots level."
Registration is still open to attend the remaining sessions today and gain access to the session recordings to watch on demand.
Listen to Coppock's president's report below and find more content from the annual conference in the AgNewsWire virtual newsroom.
2020 ARA President's Report with Daren Coppock, president and CEO
(10:47)